The Novel
The narrative of Emily Carr's life has not yet been embraced as a model by many women outside Canada. She is known by Canadian art historians and by women who have grown up in British Columbia's public schools where her stories of Native villages, or of running a boarding house, have been taught, but not the process of her own spiritual and artistic search, growth, and maturation as a woman as well as a painter and writer. Her choices, her pain of loneliness, her exultant adoration of nature, her example of sheer physical endurance and spiritual seeking have not yet entered women's lives beyond Canada. A novel could broaden her reach.
But why a novel and not a biography? There are already several fine biographies (see Bibliography page on this site), and I am not a scholar. Rendering the facts of Carr's life is not my discipline. Fashioning fiction is. Also, a biography would reach only those people who already knew of her. I wanted to reach those who didn't, who are readers of fiction, and through my fiction would be introduced to an extraordinary woman.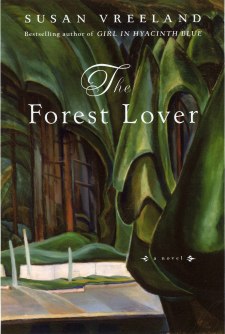 Then what are the differences between biography and fiction on a historical person? A biography reports while a novel shows. A biography is read in order to become informed about a person's life. A novel is read in order to feel what it might have been like to live that life. A biography is by nature inclusive, moving from birth to death, covering all the known events, accomplishments, activities, and people in her life. That is the raw material from which a novelist works. A novel is by nature exclusive, governed by themes rather than a complete chronology, developing only that time in a subject's life, as well as those events and secondary characters which serve the novel's themes. At the point when those themes are fully developed, conflicts resolved, and the issues reach a satisfying denouement, the novel is over, though the person's actual life may continue. Another difference is that a biography is written from the standpoint of an objective deliverer of information, a voice exterior to the character, whereas a novel could unfold from within the character, using the voice, that is to say the syntax, lexicon and attitudes of the person, revealing his or her inner life. And finally, a novel could employ secondary characters to illuminate the themes from different perspectives, each additional character having his or her own parallel or contrapuntal story.
Since Carr and British Columbia are so inextricably bound together, any novel about her has to explore the power of place to provide personal identity and fulfillment. In The Forest Lover, Emily Carr seeks to encounter and understand the British Columbian wilderness, and struggles to find a way to express her profound and complex feelings for it. In defying public scorn and hypocrisy by painting Native villages, and totem poles, she is caught in a dilemma of appropriating the very culture she reverences. Loving those in the margins of society, like herself, she develops deep connections with two people, an emotionally and physically damaged son of white missionaries who grew up in a remote Gitksan village, and the relentlessly tragic Squamish basket maker, Sophie Frank, under whose influence Emily shapes her individual religion to embrace a Native spirituality. Quirky, rebellious and independent, with a compelling urge to find Soul in a personal trinity of art and nature and God, Emily Carr ripens into a true original.
In reaching for the essence of her painting subjects, Carr wrote, "There is something bigger than fact: the underlying spirit."** As she wanted to paint the spirit of a thing, so have I wanted to offer the spirit of her courageous and extraordinary life. After years of research and ruminations, she is a mix to me now of what I've read about her, what she has written, both private and public, and what I have written of her.
When reading a novel treating a real life, it is wise to consider it speculative fiction presenting what could have happened. That Emily altered facts and chronology of her life to suit a story and to formulate a myth of herself permitted me to take certain liberties for the sake of the narrative or the development of themes. The characters in The Forest Lover are actual people, derivations of actual people, or, in a few cases, necessary inventions. For example, in order to show, and not merely report, certain aspects of Emily's character and history, particularly her difficultly with intimacy, I found it necessary to invent a man. The chronology of her trips, paintings, reviews, and certain events is approximated to fit the needs of the narrative. An actual Chronology can be found on this site. This book is not a life; it is a story. I invite you to let it work on you as you would any other novel.