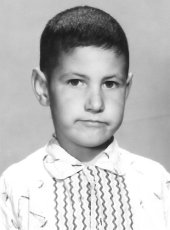 Billy, age 4, 1954
Out in the pasture Billy saw that the reins had fallen between Tony's two front legs. A hard, hurting place formed high up under Billy's rib cage. He knew he'd have to reach down there between Tony's legs and get the reins. When he approached, Tony backed away. Billy snatched the reins and pulled them tight, but Tony didn't budge. They struggled. "Stupid horse," Billy said. "Can't you do anything I want?" Tony didn't come in until he was good and ready, and when they finally headed toward the corral, Billy knew that he wasn't actually bringing the horse in. Tony was bringing him in.
Pop wasn't outside anymore. Good. In the corral, Billy unsaddled Tony easily enough, but when it came to getting the bit out of his mouth, Tony went after his hand. Billy pulled back, but not in time. Tony bit. "Damn you," Billy yelled. He grabbed for the bit again and yanked it clean.
"Never going to ride you again," he cried. "Never ever." His tears made it hard to see what he was doing, but still he slung the bridle on the hook, did only what he had to do and pushed the corral gate closed with an angry shove.
He was so untouchable. This was one child with whom she feared failing. He was an enigma to her, only a shadowy presence. Like an iceberg three-quarters hidden, he glided about in mistiness, just out of reach.