Life in New England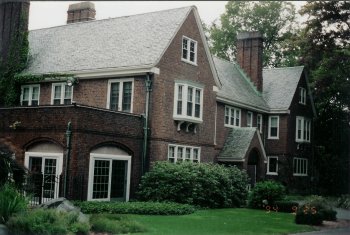 Hickory Hill, Bristol, Connecticut.

The world was smaller than ever before. It consisted almost entirely of Hickory Hill. From the moment she arrived home, not a piece of furniture was ever moved. Her first need, Nurse Williams told her, was to relearn home, to sense the length of the staircases, the route from her bed to the bathroom, the distance from the twin grand pianos at one end of the living room to the fireplace at the other. It was forty feet, but how much did forty feet feel like? She paced it off. The polished wood of her piano felt smooth and cool. She held her hands in front of her and walked until her toes touched something hard. She smelled ashes and reached forward and felt the wood paneling of the fireplace.
There was more world to explore beyond Hickory Hill.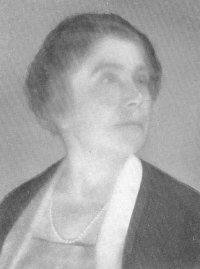 Miss Weaver, of Andrebrook Finishing School.

Lillian Clark Weaver greeted them with a low, gruff voice, but her words were kind enough. She was quick, even brusque, as if she'd always be in control. Just Father's type. It sounded like she wore clumpy, old lady shoes, too.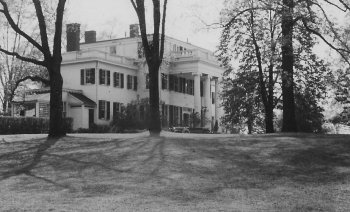 Miss Weaver, of Andrebrook Finishing School.

"All girls are to speak French exclusively until after one o'clock lunch every day, except during classes. Demerits shall be given for disobedience of this practice."
Criminee, Jean thought. At least I don't have to spell it.
"Accumulated demerits will prevent girls from going on outings."
Like what, she wondered. Anything I could do too?
"Girls will dress for dinner. On Sundays their dinner attire shall be a floor-length gown."
"How many girls are there?" she asked.
"Thirteen this year. At Andrebrook, education isn't a mass process. We give a thorough, adult background in the liberal arts."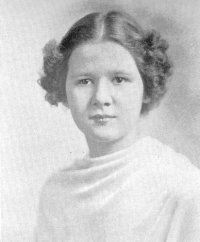 Jean at Andrebrook.

Someone said her name. Her name. At least that was something. "Boy, am I glad you came back," was all she said. She made it a point to smile and look in the direction from which she heard her name.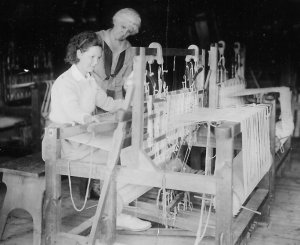 Jean Weaving at a Loom, Camp Hanoum.

Weaving she could do. While she sat high at the big loom, the aroma of wool made heavy by the humid forest, her fingers moved over the tightly drawn warp and threw the shuttle. She could feel the patterns made by threads of different thicknesses. The weaving room was peaceful. She could relax for a while by herself and she didn't have to keep up with the others.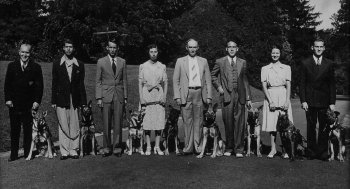 Seeing Eye Class, Morristown, New Jersey.

"Our families won't have to help us so much any more," Jean said. She felt the conversation digging itself in and wanted to stop it. "They've got to see that we can do more for ourselves now. And look at what all of you have already done, earning your own living. That makes me feel I haven't accomplished anything." Her voice cracked. "They can't help but see we're even more able now." She wished she didn't sound like she was trying to convince herself.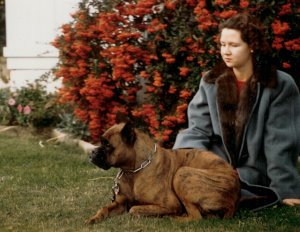 Jean and Chiang.

What a marvelous pooch. Jean loved her more and more each day, for the one thing even Father couldn't give her, mobility.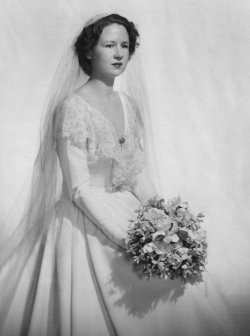 Jean in her wedding dress.

With both hands he felt the satin smoothness down her bodice to her narrow waist where the cool fabric flowed in gores over her hips. He knelt down to feel the fullness of the gown, as if in supplication at a shrine.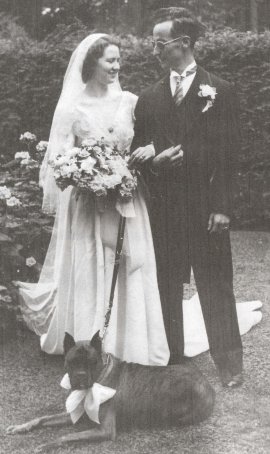 Jean and Forrest's wedding, with Chiang.

...the ambrosial scent of lily-of-the-valley in her bouquet, the hush settling over the crowd, the slight dragging feeling her train made on the stairs behind her, the swelling of the wedding march played by the strings, steady but leaping into each new measure. For years she had wondered if it would ever be played for her.