Life on the Ranch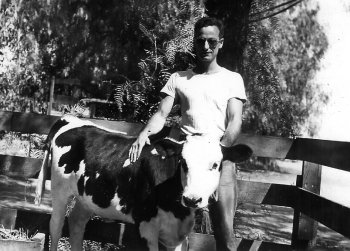 Forrest and Cow.

"Well, the cows are out in the pasture. Eight of them. They could be anywhere in the ten acres. How do you suppose I'm going to find them if they don't come back for milking?"
"I don't know."
"I let my seeing eye bull spot them for me. There's more than one way to skin a cat, ya know."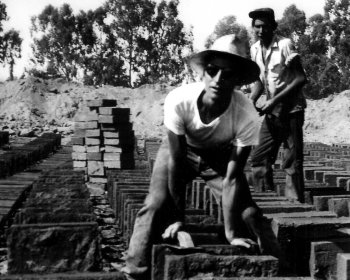 Forrest in Adobe Brick Yard.

"I just saw them, back from the war. They're making some kind of Indian bricks, adobe maybe. Digging the ground right up and putting it in wooden frames. Maybe you could do that. If we could find out how, what to mix with it to make it solid, I'd pay you to make some for me for a new turkey brooder."
What did Forrest have at his house? Dirt, plenty of clay dirt, and shovels. And an Indian buddy who could build the wooden forms. He knew he couldn't do it alone. He reached for his jacket and headed out to the highway. He stopped when his feet felt the pavement. "Hey, Ydeño," he called, and he heard the Indian come out of his house and cross the road.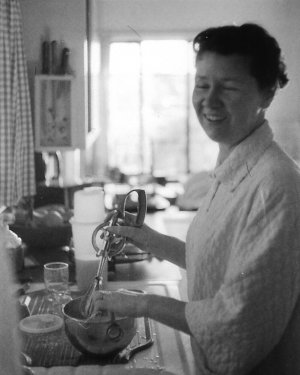 Jean kitchen new house.

"Fish and mashed potatoes and spinach," she announced in triumph. After a few moments of silent eating, she discovered all. The spinach was burnt, the fish was too dry and the mashed potatoes watery.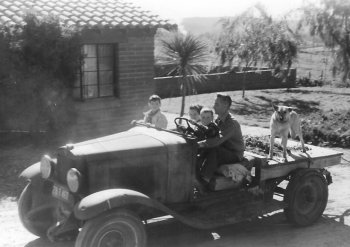 Billy Faith Forrie Forrest Rusty in the Truck, 1954.

The 1928 pickup was a rusted hulk, skeletal and barren. It had no distinct color, no windshield, no fenders, no sides, no division between cab and bed. A wooden bench served as a seat for driver and passenger. Forrest sat behind the wheel, shoulders squared to the task ahead, unaware of any discomfort as they bounced over the deeply rutted dirt road. By gum, he thought, I'm taking my family out to dinner just like any other father, risks be damned.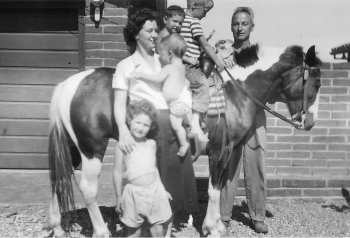 Family with Honeybunch.

"Aw, let's take a ride. Go get your sister. You can trade off on Honeybunch. Meetcha at the corral."