| | | |
| --- | --- | --- |
| | My First Inklings of Lisette's List | |
You may wonder how I came to write this book, so different from my others.




It began with a feeling that in terms of my development as a writer, I must not write another novel centered on one artist, bringing to literary life part of a biography, expanding into the artist's friendships and associations. That approach has given me much joy for a decade, but recently I began to feel that it was too constraining. The new book came of a need to outgrow that mode and completely invent for myself, and to devote my imagination to creating characters whom I wanted to embrace.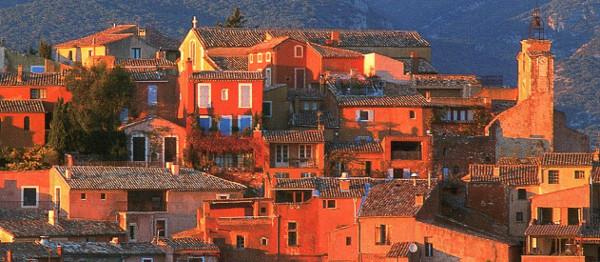 Roussillon after a Rain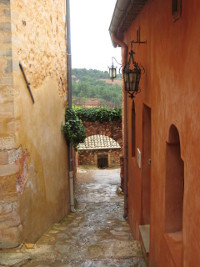 Street in Roussillon
image© Kip Gray



Enter a Provence-loving friend, Marcia Mueller, the photographer whose work you see on these pages. She insisted that I see the village of Roussillon on an upcoming trip across the south of France with my husband. With only two hours there, and with rain deepening the red-ochre and rosy ochre and golden ochre of the village, I fell in love, recognizing this pocket of harmonious houses high above ochre cliffs as a treasure of ultimate provincialism. I vowed to come again. And I did, with a novel swimming in my head.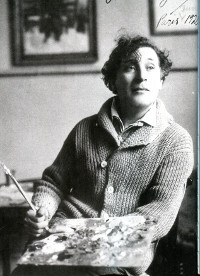 Marc Chagall at work.

It also began, before that trip, with a fascination with Varian Fry, the American who, during the German Occupation of France in World War II, orchestrated the clandestine housing and escape of Jewish artists and writers from the Villa Air-Bel and Marseille in Provence, though neither Fry nor the villa nor Marseille appear in this novel, but Marc Chagall, one of those escaping painters, does.

The rape of Europe of its art, as it has come to be called*, has disturbed me greatly. That entire nations could be deprived of the art of their native sons by a ruthless foreign tyrant with no appreciation for any painting beyond the Renaissance, was an injury and outrage I feel keenly. That would provide the historic context, and the passion to carry forward this new work.
And grounding my passion, like a seed in my soul, the novel grew from my deep love for France, for the French language, for French art, for Provence, and for the French people who have suffered unspeakably during war and its aftermath and whom I have found to be gracious lovers of beauty.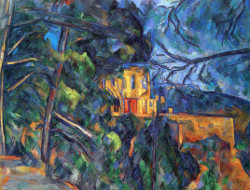 Paul Cézanne, Château Noir, Aix-en-Provence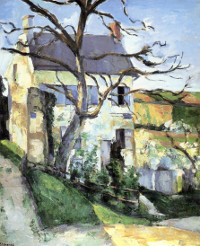 Paul Cézanne
When I learned that near Roussillon there were ochre quarries and mines from which was extracted the iron oxide ore which produced pigments in all the warm hues of the color wheel, I had a substantial artistic link to this region beyond mere love.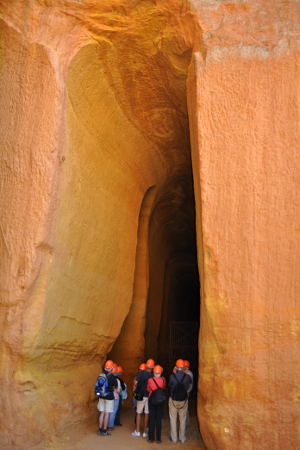 Bruoux Mine, Gargas, Provence, image© Marcia M. Mueller

Art history looks at art works and the people who have created them. But what is it called, that exploration of the people who made the things that are the materials of art? The first thing: the pigments, that bright earth. The last thing: the frame around a finished painting. Because I knew no word for this area of study, that was the new terrain I wished to enter.

*Nichols, Lynn, The Rape of Europa: The Fate of Europe's Treasures in the Third Reich and the Second World War. New York: Vintage/Random House, 1994.